Product
Video
Indication
Benefits
Images
Range available
Ordering Information
Specifications
Instructions for use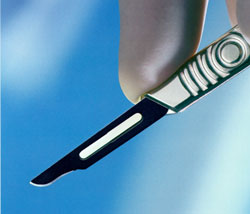 Surgical Blades, Disposable Scalpels and Handles
This information is intended for Healthcare Professionals only.
Description
The comprehensive Swann-Morton® range of surgical blades, handles, stitch cutters and scalpels is the result of dedication to quality of the highest standard and the latest technology.
Swann-Morton® handles are available in nickel, with selected sizes available in stainless steel. All handles are individually wrapped.
Features and Benefits
Unsurpassed Sharpness A blade that is not only initially sharper - but remains sharp - is the result of over 50 years' commitment to product innovation. The molecular structure of the carbon steel we use in the majority of our blades delivers the consistently sharper edge that practitioners have come to expect when they open a Swann-Morton® seal.
Superior Feel To allow greater control of the blade during incision, we utilise a microscopically serrated 'open edge' on one side of the blade. This open edge gives you greater fingertip feel in assessing both the depth and pressure of the required incision.
Exceptional Durability and Quality A cutting edge that maintains its sharpness for longer also offers cost and operational benefits in theatre. Our stringent quality control procedures ensure that every blade is subject to 100% inspection, and have made us the first surgical blade manufacturer to achieve BS5750 (ISO09001) accreditation. It's this contribution of durability and uniformity of quality that has made Swann-Morton® the name that surgeons, theatre staff, general practitioners, and clinicians everywhere depend on.
Vapour Phase Inhibitor (VPI) Protected Every box contains a vapour phase inhibitor, which is a thin layer of paper that absorbs any moisture that may become trapped within the box, eliminating the possibility of rust formation on the blade. The blade is therefore presented in an optimum state to work with.
Diversity of the Swann-Morton® range The risk of exposure to blood-borne pathogens has become a major issue in all clinical environments, especially in emergency situations, where patients' medical histories are often unknown. The new range of Swann-Morton® disposable scalpels with retractable blades reduce that risk. This simple innovation represents a major advance in handling safety with no compromise in blade quality or control. It also makes disposable simpler and safer.
The Swann-Morton® range also comprises stitch cutters, blade removers, and specialty blades.
Ordering Information
| | | |
| --- | --- | --- |
| Code | Description | Item per unit |
| DISPOSABLE SCALPELS Sterile | | |
| SM0516 | No. 6 | bx/10 |
| SM0517 | No. 9 | bx/10 |
| SM0501 | No.10 | bx/10 |
| SM0502 | No.10A | bx/10 |
| SM0503 | No. 11 | bx/10 |
| SM0525 | No. 11E | bx/10 |
| SM0504 | No. 12 | bx/10 |
| SM0518 | No. 12D | bx/10 |
| SM0519 | No. 14 | bx/10 |
| SM0505 | No. 15 | bx/10 |
| SM0520 | No. 15A | bx/10 |
| SM0521 | No. 15C | bx/10 |
| SM0506 | No. 20 | bx/10 |
| SM0507 | No. 21 | bx/10 |
| SM0508 | No. 22 | bx/10 |
| SM0509 | No. 22A | bx/10 |
| SM0510 | No. 23 | bx/10 |
| SM0511 | No. 24 | bx/10 |
| | | |
| DISPOSABLE SCALPELS - BULK | | |
| SM2333 (old code SM2433) | no. 11 (Non-Sterile) | ctn/1000 |
| | | |
| DISPOSABLE SCALPELS WITH RETRACTABLE BLADE | | |
| SM3901 | No. 10 (Sterile) | bx/25 |
| SM3991 | No. 11 (Sterile) | bx/25 |
| SM3905 | No. 15 (Sterile) | bx/25 |
| SM3906 | No. 20 (Sterile) | bx/25 |
| SM3907 | No. 21 (Sterile) | bx/25 |
| SM3908 | No. 22 (Sterile) | bx/25 |
| SM3910 | No. 23 (Sterile) | bx/25 |
| SM3911 | No. 24 (Sterile) | bx/25 |
| SM2915 | No. 25A (Sterile) | bx/25 |
| SM4001 | No. 10 (Non-Sterile) | bx/500 |
| SM4091 | No. 11 (Non-Sterile) | bx/500 |
| SM4005 | No. 15 (Non-Sterile) | bx/500 |
| | | |
| | | |
| STANDARD BLADES Sterile - Fit handles 3, 3L, 7, 9 and B3 | | |
| SM0216 | No. 6 | bx/100 |
| SM0217 | No. 9 | bx/100 |
| SM0201 | No. 10 | bx/100 |
| SM0202 | No. 10A | bx/100 |
| SM0203 | No. 11 | bx/100 |
| SM0225 | No. E11 | bx/100 |
| SM0204 | No. 12 | bx/100 |
| SM0218 | No. 12D | bx/100 |
| SM0219 | No. 14 | bx/100 |
| SM0205 | No. 15 | bx/100 |
| SM0220 | No. 15A | bx/100 |
| SM0221 | No. 15C | bx/100 |
| SM0222 | No. 16 | bx/100 |
| | | |
| STANDARD BLADES Sterile - Fit handles 4 and 4L | | |
| SM0206 | No. 20 | bx/100 |
| SM0207 | No. 21 | bx/100 |
| SM0208 | No. 22 | bx/100 |
| SM0209 | No. 22A | bx/100 |
| SM0210 | No. 23 | bx/100 |
| SM0211 | No. 24 | bx/100 |
| SM0212 | No. 25 | bx/100 |
| SM0215 | No. 25A | bx/100 |
| SM0214 | No. 27 | bx/100 |
| SM0213 | No. 26 | bx/100 |
| | | |
| SPECIAL BLADES Sterile | | |
| SM9940 | Skin Graft Blade | bx/10 |
| SM2001 | Cervical Biopsy Blade | bx/10 |
| SM2551 | Post Mortem Blade (PM40) | bx/10 |
| SM2552 | Post Mortem Blade (PM40B) | bx/10 |
| SM0723 | U Blade | bx/50 |
| SM0721 | S Blade | bx/50 |
| SM0722 | T Blade | bx/50 |
| SM0724 | V Blade | bx/50 |
| SM0725 | W Blade | bx/50 |
| SM0726 | X Blade | bx/50 |
| SM0727 | Y Blade | bx/50 |
| SM0728 | Z Blade | bx/50 |
| | | |
| FINE BLADES Sterile | | |
| SM2102 | Myringotomy Blade | bx/10 |
| SM5901 | SM61 | pk/25 |
| SM5902 | SM62 | pk/25 |
| SM5903 | SM63 | pk/25 |
| SM5904 | SM64 | pk/25 |
| SM5905 | SM65 | pk/25 |
| SM5906 | SM65A | pk/25 |
| SM5907 | SM67 | pk/25 |
| SM5908 | SM68 | pk/25 |
| SM5909 | SM69 | pk/25 |
| | | |
| SURGICAL HANDLES Non-Sterile | | |
| SM0803 | No. 3 Handle-Alloy | bx/10 |
| SM0913 | No. 3 Long Handle-Stainless Steel | bx/10 |
| SM0804 | No. 4 Handle-Alloy | bx/10 |
| SM0914 | No. 4 Long Handle-Stainless Steel | bx/10 |
| SM0807 | No. 7 Handle-Alloy | bx/10 |
| SM0933 | No. 3 Handle-Stainless Steel Graduated | bx/10 |
| SM0934 | No. 4 Handle-Stainless Steel Graduated | bx/10 |
| SM0923 | No. B3 Handle-Stainless Steel | pk/1 |
| SM0909 | No. 9 Handle-Stainless Steel | bx/10 |
| | | |
| SPECIAL HANDLES Non-Sterile | | |
| SM0630 | Long Handle | bx/10 |
| SM0629 | Standard Handle | bx/10 |
| SM0805 | Number 5 Nickel | bx/1 |
| SM0806 | Number 6 Nickel | bx/1 |
| SM0824 | Folding Handle #4 | bx/1 |
| SM6986 | Graduated Handle #4/4L/6 | bx/1 |
| SM0833 | Graduated Handle #3 | bx/1 |
| SM6997 | Post Mortem Handle | bx/1 |
| SM0907 | Number 7 Stainless Steel Handle | bx/1 |
| SM9902 | Cobbett Skin Graft Handle | bx/1 |
| SM9903 | Watson Skin Graft Handle | bx/1 |
| SM9901 | Braithwaite Skin Graft Handle | bx/1 |
| | | |
| FINE HANDLES Non-Sterile | | |
| SM6051 | SF1 | pk/1 |
| SM6052 | SF2 | pk/1 |
| SM6053 | SF3 | pk/1 |
| SM6054 | SF4 | pk/1 |
| | | |
| STITCH CUTTERS Sterile | | |
| SM0421 | Long Stitch Cutter | bx/100 |
| SM0420 | Standard Stitch Cutter | bx/100 |
| | | |
| BLADE REMOVER Sterile | | |
| SM5502 | Blade Remover Surgical | bx/50 |
| SM5525 | Blade Removal Unit | bx/10 |